Discussion Starter
•
#1
•
SO I decided to sell my "Kouki Monster"
It's a either love it or hate it car, (Noisy/Gangster/pimp/fast/sparkly) are words to desrcibe it.
Not a fun car to drive daily, this is for the serious enthusiast who loves gangster slammed, flush wheels, and a stiff ride for better handling. It has a Blitz twin plate clutch that grabs like no other, so not the best car to get stuck in traffic with.
but when driving freely and on the track is so MF'ing fun!!
I do daily drive it, so it is possible, but at some times it becomes very annoying, it is best to have a DD, and have this car for drift/track day or for joy rides.
only went to the track 2 times, so the motor was not abused too much, recently rebuilt and new metal headgasket by Fineline Tunning, recently replaced the Clutch slave and master cylinders.
engine management is by Jim Wolfe Technology, which we all know is one of the best tuners for SR's most pwer out of the stock ecu possible.
probably pushing around 360-380 HP I also have a Power FC and commander which can go with the car for a little more$$$
asking price $17.000
new price OBO $15.600
call Gabe 213-210-5923
or pm!
no need to list the prices of the items and not to mention the time and patience to put a car like this together, Probably spent more than 25k on the car since 2004.
List of Mods is below:
-97 240sx se(S14)
-S14 Sr20det (rebuilt and new Metal H.gasket and Studs less then 2k miles ago)
-ARP Headstuds
-Cometic Metal Headgasket
-Garret 2871R turbo(64)
-Earls steel Braided lines
-Megan Eaxhaust Mani
-Megan turbo elbow
-Tonami 3" straight thru stainless exhaust
-Hi-performance radiator
-Greddy intake manifold
-Large FMIC with custom piping
-BOV
-HKS style BOV
-JWT tuned ECU
-Sard 855cc injectors
-NGK Iridium Spark plugs (7 gap) best for upraded turbo and hi boost
-Z32 MAF with custom adapter
-Greddy Profec B boost ctrl
-Greddy turbo Timer
-Prosport guages(boost/oil press/oil temp) last 2 not connected.
-Alarm(doors and for hood)
-Battery relocated to trunk with proffesional reloc.kit
-Stance GR + Pro coilovers
-extra set of spring softer rates
-Cusco front and rear sway bars
-front and rear strut tower bars
-Tein Tie rods
-seat belt roll bar
-Circuit Sports Rear Camber arms
-Blitz Active Twin Plate clutch.
-Z32 slave cylinder
-recently replaced OEM master cylinder
-Welded Diff (great for drifting)
-Z32 drilled and slotted rotors
-Trust Stainless shiftknob
-Drift deep dish steering wheel
-Crazy black holographic flake paint job
-VIS full body kit(URAS agressive style)
-VIS 30mm wide rear over fenders
-VIS 30mm Wide front fenders
-URAS hood vent molded in
-Kouki wing
-half clear tailights
-rear window spoiler
-rain window visors
Wheels:
-SSR Vienna Dish 18x9 & 18x10.5 +16(VIP style)
-tuner lugs
-G-racing 17x7.5 as spare rim with tire
-30mm spacers all around
Pics:
fitment
from the back:
exhaust mani and lines
greddy inatake mani
under direct sunlight sparkle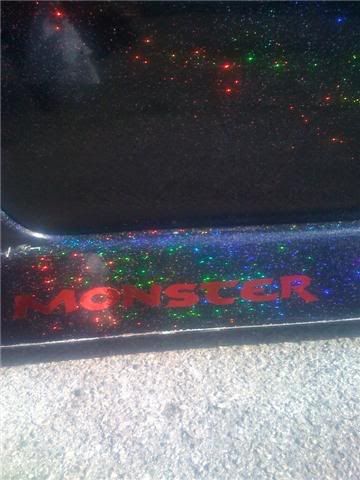 guages and steering wheel
Night sparkle fuck yea!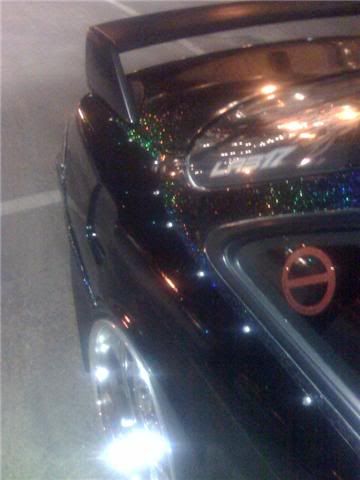 slammed!with almost 3 inches to go still !!!
Price is negotiable depending on buyers concerns, we can work a deal out
parts that can be taken off to lower price:
-coilovers
-wheels
willing to trade for S15, Chaser or highly modified FD3S,Supra TT etc
Reason I am selling is because I am thinking of upgrading to a stock or lightly modified version of the cars listed above.