September 13th, 2006
I became the owner of this bone stock 91 240sx Fastback
it was purchased from this one guy on Zilvia, Drift Freq aka Dave...
I'll be honest, I did not pay for the car myself xp...but all the aftermarket parts were my hard earned money...and installed by myself
I am technically the second owner of this vehicle
it is a 1991 model that was built in July 1990
its at 105k miles and an ex-autotragic vehicle
anyways...took some pics on my 2nd day of ownership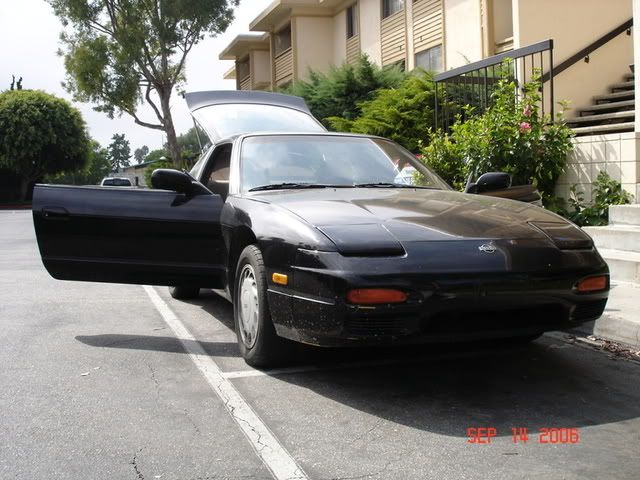 somewhat low mileage chassis, according to carfax, it's legit...
gay tan interior
but everything was so original! I even have that little thing that goes on top of the center Nissan emblem on the steering wheel in the center console, VERY RARE! lol
half broken faceplate thats just hanging there, but it works...and somehow the OEM unit is still chilling there
awesome teardrop style hub caps!
exhaust muffler tip...which i still have in the garage...anyone want it? lol
stock KA24DE
and yes I have that distributor cover!
typical cracked overflow...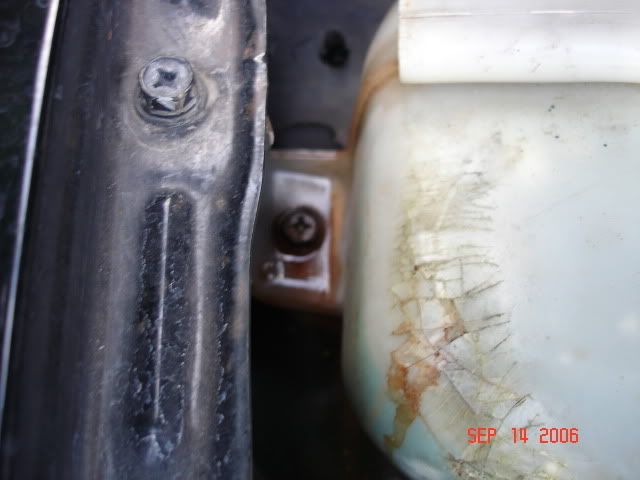 tooooooo damn excited that night...so I had to take more pics
gave the car a GOOD wash and took some "artistic" pictures
and the first mod..........sleepy eye! :gaylaugh
from there she just went downhill
December 2006
bought a pair of OEM 7 spoke SE wheels because the tires on the steelies are almost bald
the car only came with one license plate because the front plate holder went missing, so i went ahead and got a new set of plates and ziptied that shit JDM style :rotflmao
yeah...hella ghetto :nono
heres some "fun" pics
LOL...chopped from my real plate
kinda like what i wanted back in the days...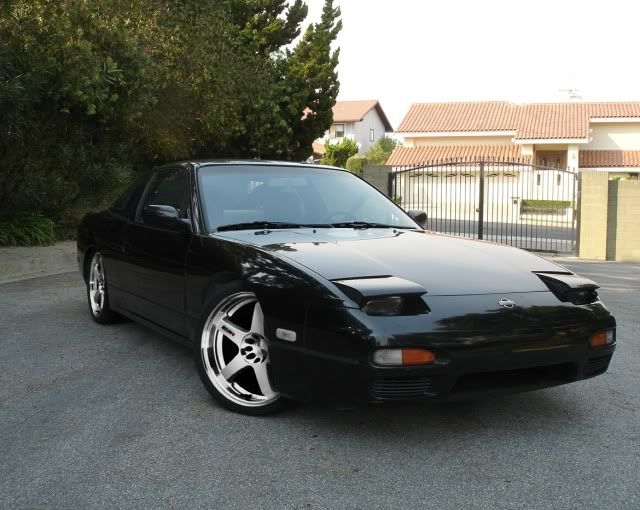 i want to make my tails looks like this
some ideas of what i want my car to look like


and a replica of my car later on
January 2007
i decided that the stupid paint on wheels are pissing me off too much so i repainted them
stripped the paint
getting ready to paint
primer
looking gooooddd
April 2007
found a steal on a pair of MINT condition FNs and tires that I couldnt pass up
5zigen FN01R-C 17x8 +35mm in 4x114.3
i believe they are the rare Hyper Black <-- rare color
test fit
"flush"? :happyfing
installed with 225/45/17 that the seller gave me, perfect size for s14, slightly big for s13
one day i decided to take off the bumper to take off the license plate holder thing
took me 3 hours to figure it out =.=
now it only takes me like 15min to take them off...LOL
May 2007
one day i had the bright idea of repainting my front bumper :nono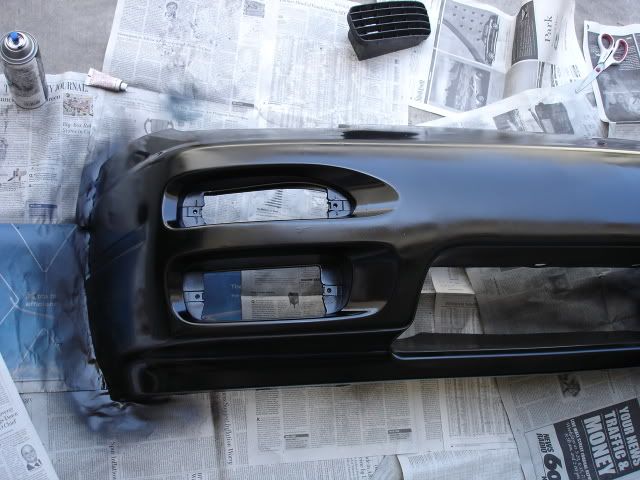 its not heavily faded....
July 2007
I graduated from high school and started working at this one ebay company
This marks the starting point of me dumping money into my car
Got a new custom exhaust
2.5 inch piping
Dual Tip Magnaflow Muffler
have to say its very stealth looking...so far so good as ticket goes...knock on wood
August 2007
i ordered some leds from superbrightleds :heyhey
these ones
and some leds for the sidemarkers and dome light, didnt really take any pics
although supposedly LEDs suppose to last forever, my cluster started flickering now... :crazyrant
bought a random tail light for $7 to attempt my own "clear corner"
used some fluorescent light covers...pattern is wrong, and never really did the other side...
bought some speakers from onlinecarstereo.com
Alpine 6.5 inch 2 way speaker SPS-17C2 - 250W Max
Pioneer 4x6 inch speaker TS-G4641R - 100W Max
Total $112 shipped
6.5 inch adapter plate
$13.98 shipped from mjmautoinnovations on ebay, good seller
Sounds AWESOME!!
went from 25W to 250W in front and 25W to 100W in the back....lol
also ordered some Carbon Fiber style racing pedals
this shit helps alot on heel to toe...:dancingco
never took pics of them specifically...so yeah
picked up some Megan Streets coils from Jackson/JXN/Carparthookup/Sonic Motors
totally recommend them to anyone else!! very chill people
i figured, im still a noob thats learning, no point of spending big money on good coils
springs n struts will cost about 600...might as well just go coils...
installing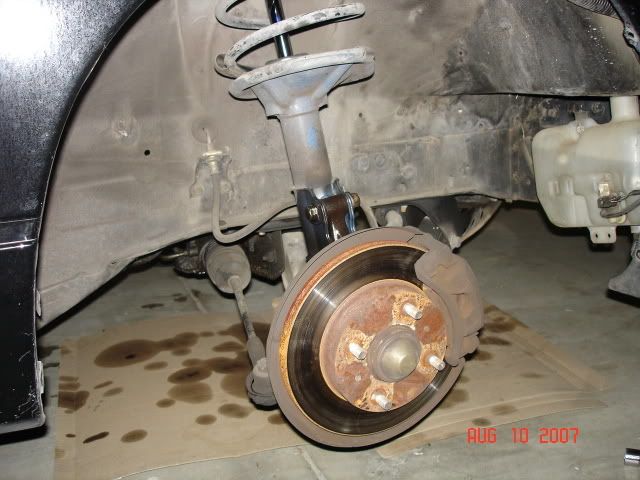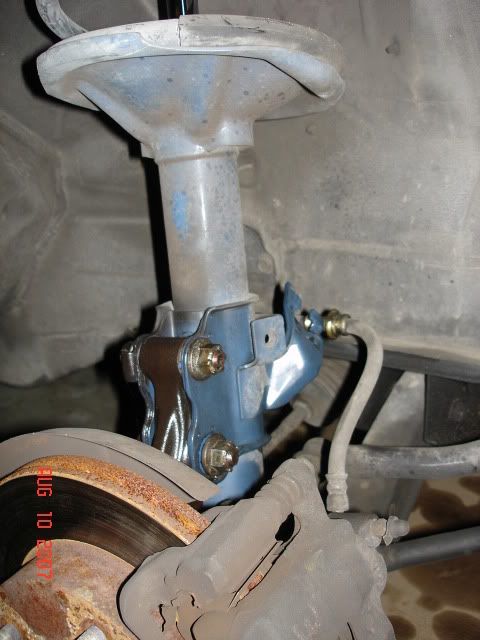 halfway done....went to sleep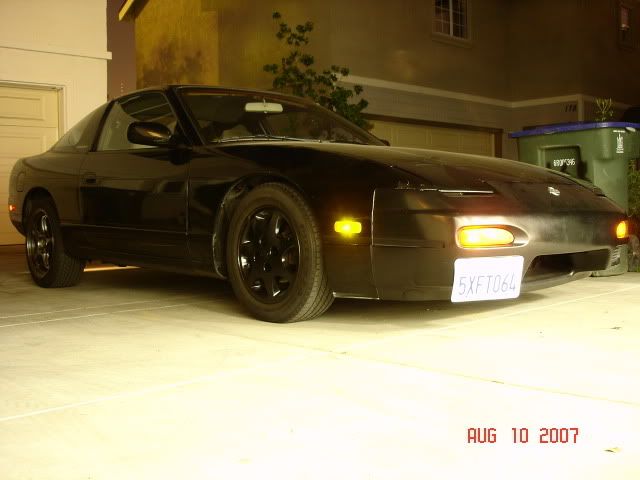 these pics were taken at like midnight...xD
finished the rear the next day
washed it
tooks some pics at Pasadena City College(PCC)'s parking lot at like 11pm
no I didnt do the burn out on the ground...
cops came after I took like 5 pictures and kicked me out... :12dunno
bought some NGK Spark Plug wires and NGK Copper Spark Plugs, OEM Fuel filter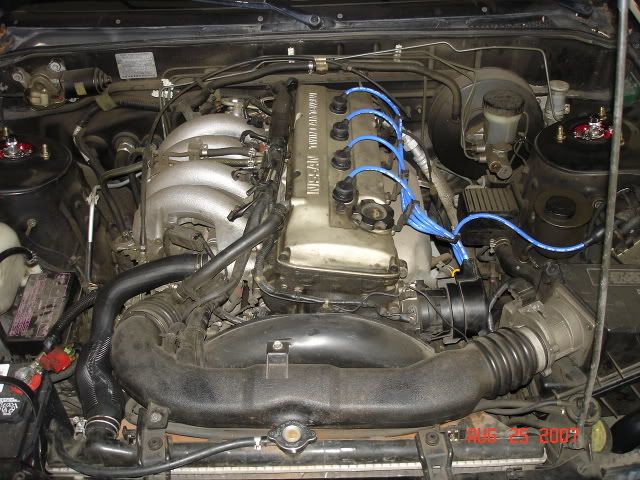 September 2007
Ordered some new rims
Rota Grids 16x8 +10 in Black with a Red Lip
Also some red Gorilla lug nuts
Test Fit
gay center cap...
tires on
Federal SS535 205/50/16
too broke to get 595s...LOL
Installed
nasty dent on the back :-/
non-color matched front bumper
at the local 626 meet
its the 2 year anniversary
over 70 cars showed up....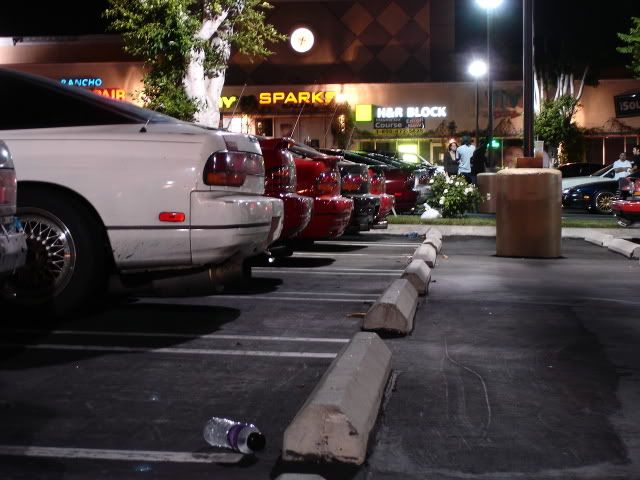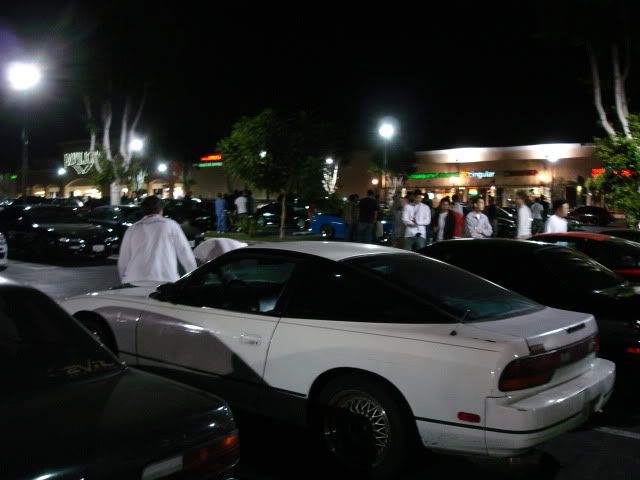 somewhere in between I painted some interior parts black and got some free black rear seats
November 2007
then the ricer in me decided to get some knock off aero parts...
GP Sports G-Sonic front bumper and I believe the G-Four sideskirts
i sanded them down n repainted them
the bumper didnt really fit very easily...so i sold it later on
December 2007
my fuel pump died on me, got a used Walbro off some member on here
and my rear brake pads were completely shot, and the "brake dust" more like metal shaving was permanently stuck on my wheels :-/
got some H4 conversion headlight from JXN again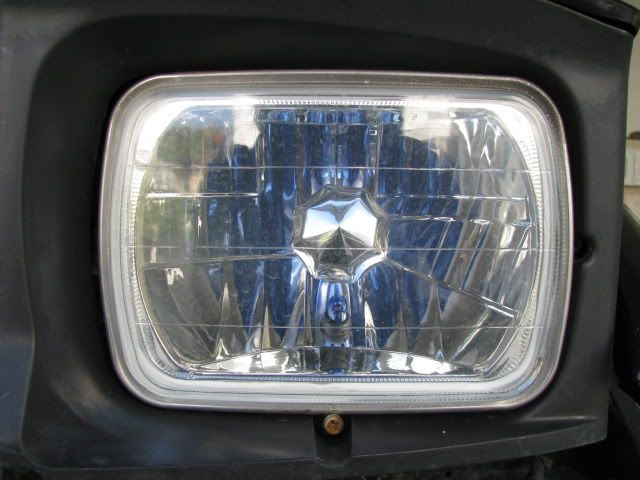 seal beam on the right vs H4s...HUGE difference
i switched out the "JDM White" bulbs for some PIAAs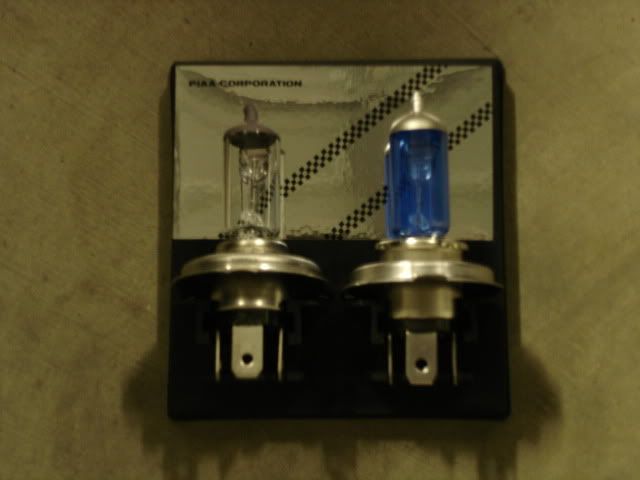 February 2008
my infamous shots...lol
some called it "knight rider" :gaylaugh
this pic is currently on my credit card :thumbsup
May 2008
bought a steering wheel off ebay, and some random hub
came with a TRD horn button because it came off a JDM SW20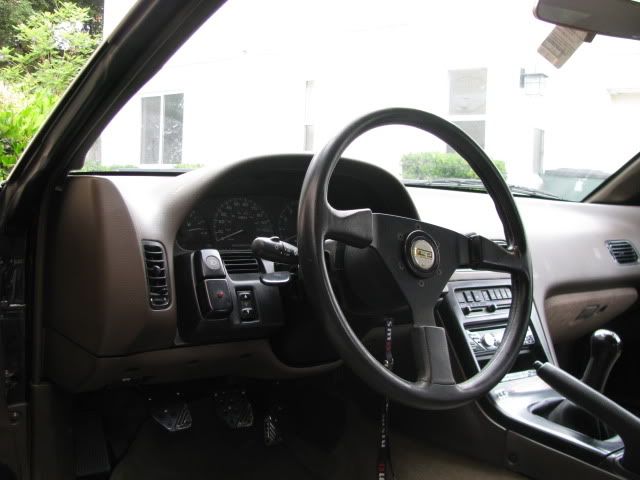 here you can kind of see the racing pedals...lol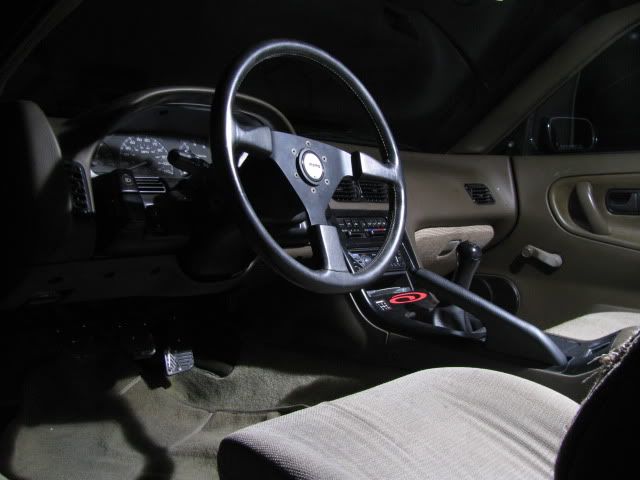 my roof looked like this
so i repainted it...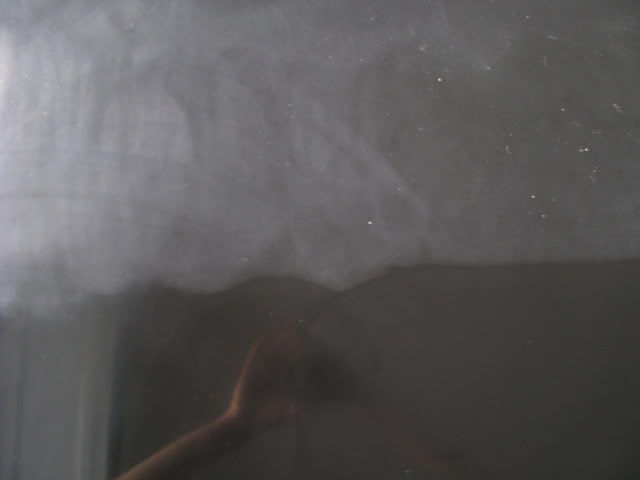 sooo shiny...all spray paint
i took my time this time and it came out great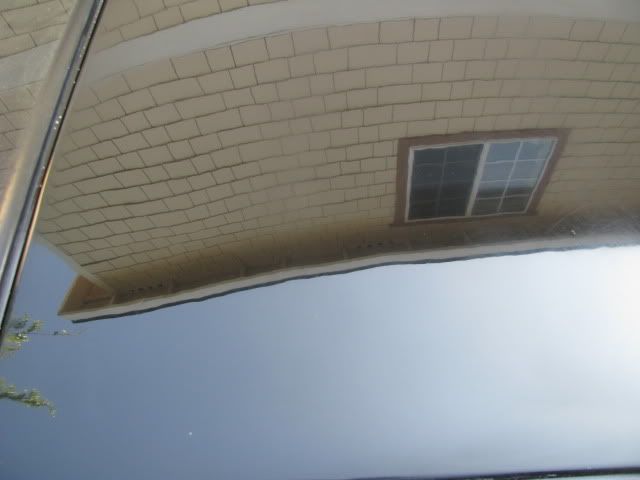 gave my engine bay a good wash
soo clean!
my KA is constantly overheating...so i bought
Koyo Copper OEM replacement radiator
Z32 NA Radiator cap (1.2? 1.3? bar vs the OEM .9 bar)
radiator hoses
Nismo Thermostat
got tired of my Rotas and traded them for some FNs
Federal SS595 Tires all around
Front: 17x8 +35 in Silver | 205/40/17 (tires are too small)
Rear: 17x9 +20 in Hyper Black |235/40/17
and during those times I felt in love with the wheel fitment game...
front is FAIL I know...
also got some quick release and lock for my car
September 2008
like I said before, the KA was constantly overheating! one day the whole head gasket blew...on the night before school starts =.=
fucking GREAT!
in a week or so, found and swapped in a S14 KA with about 68k miles
work was done over one night...so didnt really took any pictures
also found out the clutch I have is a OEM replacement Exedy Clutch
from the motor swap, I found that motor mount was broken in 2 pieces...
got some Nismo ones from thenismoshop/West Covina Nissan
Tranny Mount
Yet again I decided to get a brand new kit
from M1 Autosports...honestly they are the best people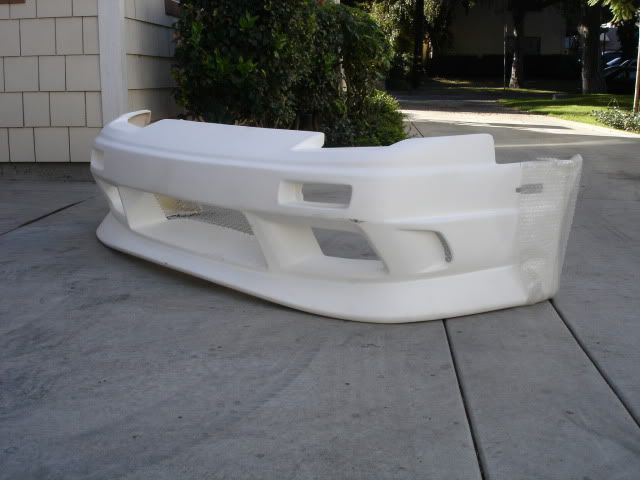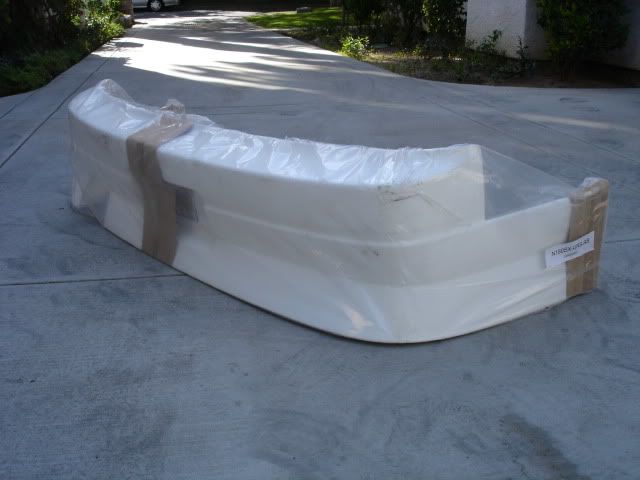 its the full GP Sports kit again, lost the pics of my skirts...but I sold them anyway
November 2008
after two years of ownership, SMOG came up and like most 240s...I got the test only AND it didnt pass
I was so frustrated and was about to just sell my car =.=
spend alomst 500 on "legalising" the car
Clean the EGR, new cat, labor, SMOG fees....eventually it passed
March 2009
bought one ITR knock off seat off someone on Zilvia
it didnt came with rails...NRG discontinued the brackets...so I never put them in
eventually sold it
July 2009
Bought a replica seat off JXN, again awesome guy...hehe
Bride VIOS III Replica, didnt bother with getting the logo and carbon fiber backing and all that...no need to attract attention...
Buddy Club Rails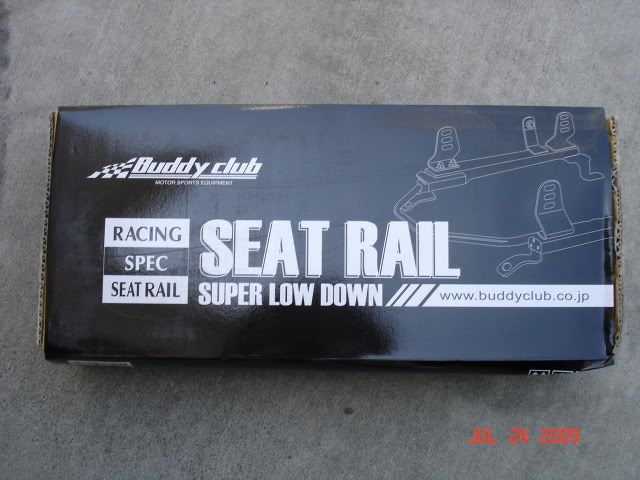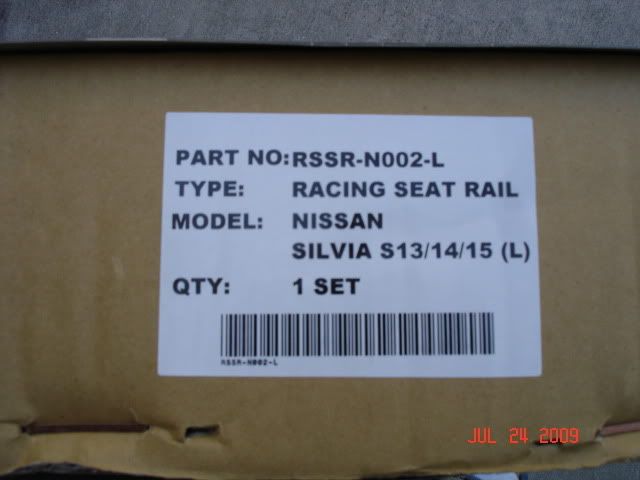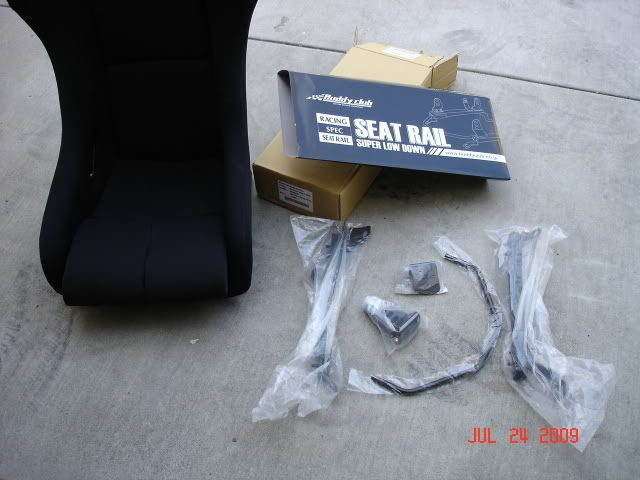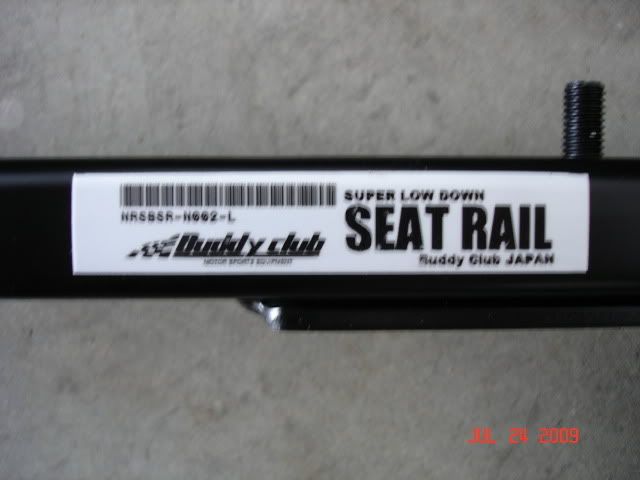 rails in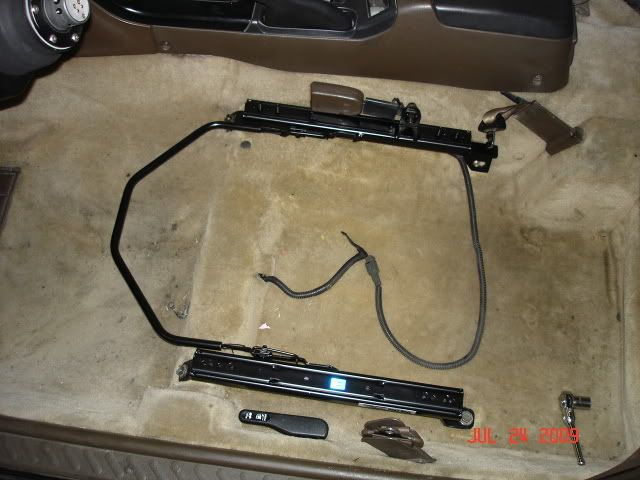 installed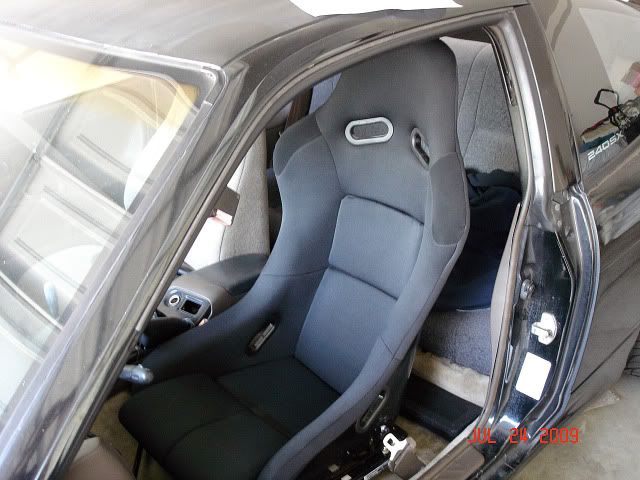 August 14th, 2009
I trade my 17x9 FNs for a set of Tcsportline dual pattern 4 & 5 lug hubs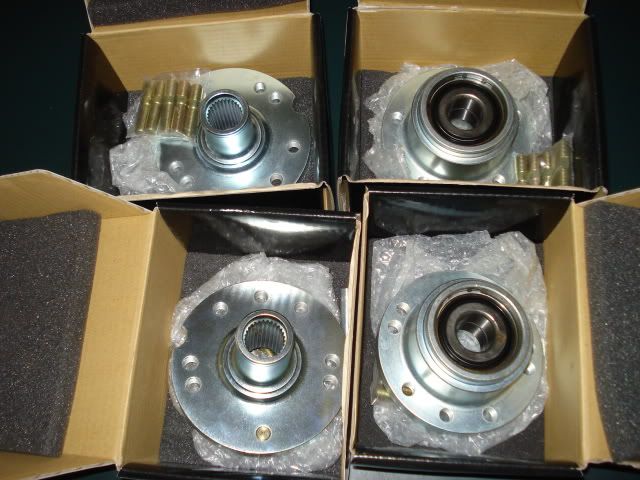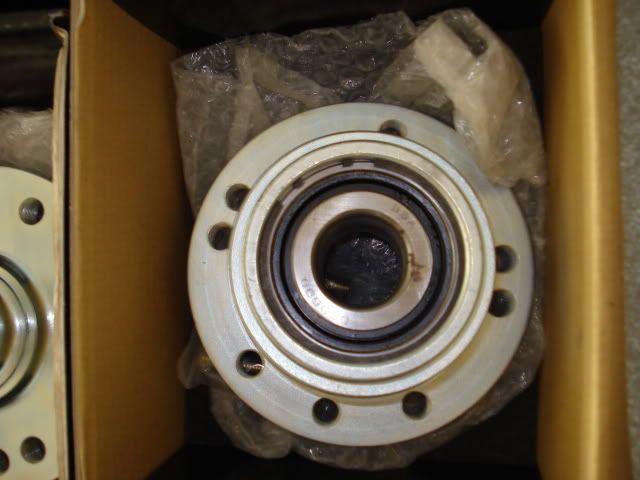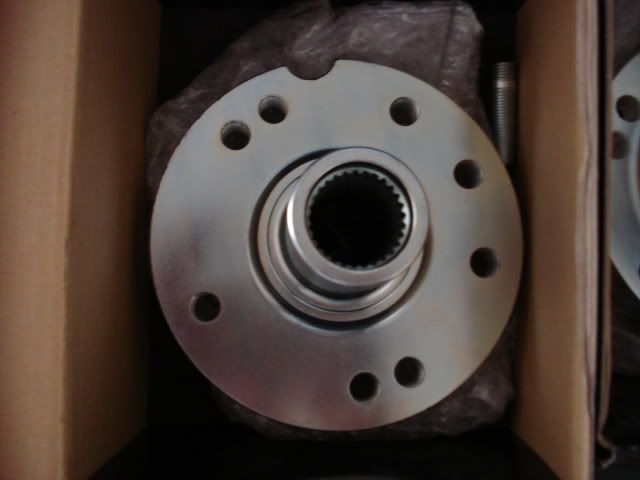 Brand new in box 180sx center garnish...it is for sale
some random slightly used pads
one set of Hawk HPS and a set of Porterfields...no idea which is which
only one set fit, other set is supposedly for Kouki S14 calipers...
threw those on along with some brand new 5 lug OEM replacement rotors...
OEM vs Aftermarket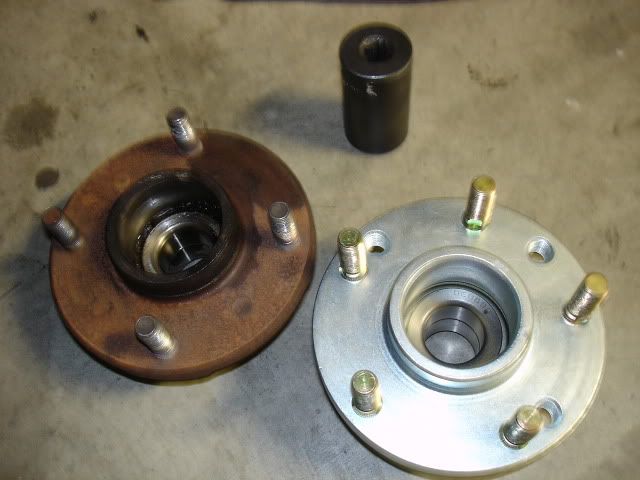 OEM hubs has the NSK bearings...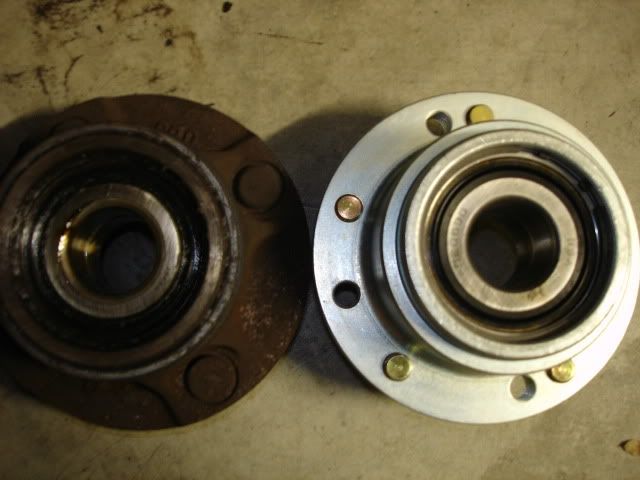 hubs off
new ones on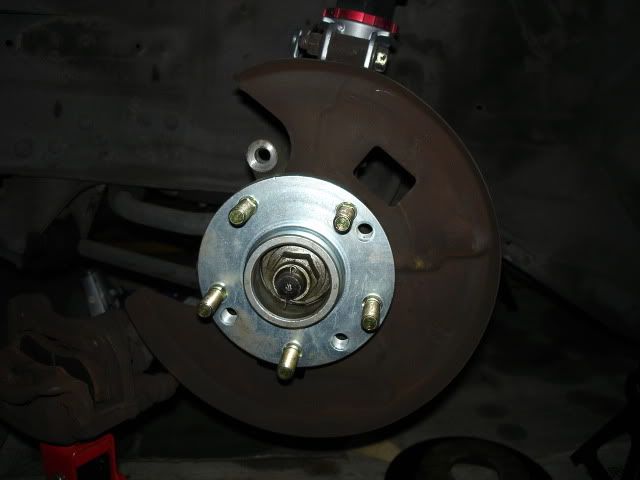 test fitting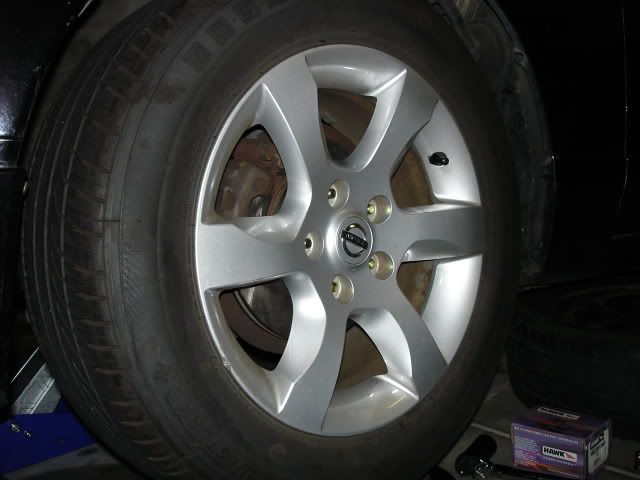 its rubbing....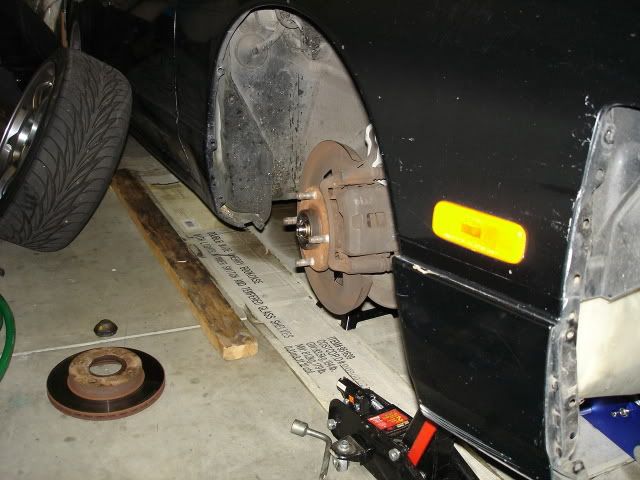 these tires are about 8% too big...LOL
Also bought some Air Spencer JDM Squash air freshener from Autobacs...lol
so that pretty much concludes as far as what I had done with my car...
it is still my daily driver, eventually when i get another DD, i will probably tear apart the KA and build it up for KA-T...hehe
David's Nissan 240SX "Elaine"