Discussion Starter
·
#1
·
OK, well after a while of debating, I'm keeping the car, so might as well get one of these going.
For those that don't know, the name came from here:
YouTube - The intro Ace Combat 5 The Unsung War
So, let's get through some back story/pictures.
Sold my STi, needed a new toy. Found a Kouki in NY with 96k for 6k. Auto, stock. Too good to be true? A little. The seller neglected to mention any of the body imperfections, which every and I mean EVERY panel has. But, being it was a 5 hour drive up there, and I could live with it, took it home. Got it home, gave the engine a bath, and called it a day.
Felt ambitious, so I gave her a complete once-over with some compound and a waxing. Still looked beat, but a shiny beat.
Now, we can't have stock suspension, nonono. Especially not when the seller also sold me some Nismo R-Tune coilovers on the cheap
Nice little stance now.
More online goodies. Jeff is the shit at 240sxmotoring, seems to always have a good deal on something I want
Case in point:
Yes, I know they're mismatched, which damn near gave me OCD, but when you book 3 weeks out for an alignment and parts are backordered, you make due.
Off to my favorite Subaru shop for a little alignment TLC. Makes me smile knowing they're smart enough to put weight in the drivers seat to compensate for you.
So after all that, you get hungry right?
Got sick of leaks, so took care of that.
Nom nom nom....matte black. Anywho.
Again, boredom sets in, so got rid of the crappy radio the seller threw in, and got a less-crappy one (read: Local, iPod, cheap)
To go with that less-crappy radio, had to get some CF wrap I loved so much before. Comes out much better than people think, provided you take your time and do it right.
Random insert: Joys of DC/VA commuting. 100k miles. w00t!!!
Stock rotors dying, scored new ones on Zilvia for $50/shipped. Can't beat that.
Finally (Read: $1,600 later) assembled all the parts I wanted for my 5spd swap. Dropped it off at MA-M, can't really complain. Was only my first time with them, so we'll see how next time goes. See if they get a winning streak going.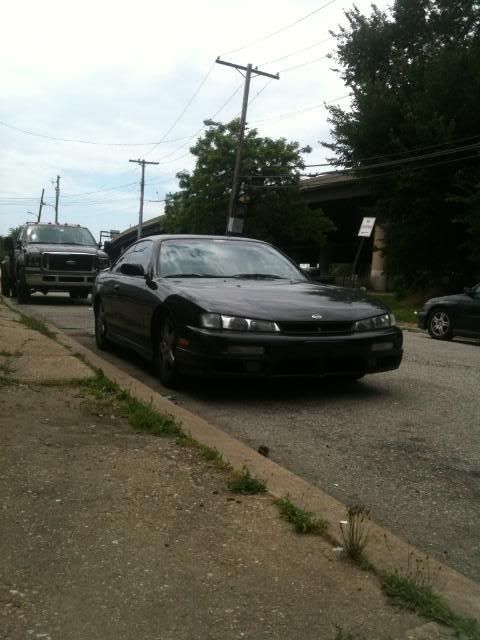 Argued with the Isis short shifter for about a day or 2, finally said "screw it. Live with the rattles."
Tried a dozen different fixes, some I was even impressed I thought of, but oh well. I'll get a B&M later.
NOW! Onto today. Still reading? Or are you just skimming for pics by now? :lol:
Picked up some Prosport gauges. Big with Subies because of color matching. Plus, local and warranty. Can't complain. Also picked up an ATI frog pod to go with them. Gauge stuck out, but black tape and the hood blended it in nicely. All was well, till I bought more.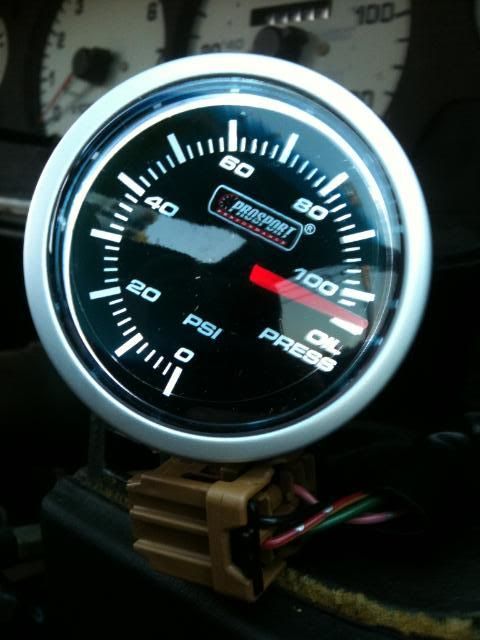 Saw an R33 with a gauge pod I liked, so I went and got a Glowshift Tripple Gauge Pod off ebay. No, don't buy it, but for 15 shipped what do I care. Took some serious custom mounting, it's more like a 1.25 DIN (lengthwise). Took a few hours, ran the harnesses together with some solder and heat shrink. Drilled a hole in the firewall and routed the wires through a grommet, and hooked it all up. A couple 2nd degree burns (Note: don't miss the handle on your soldering iron) and some patience and tada!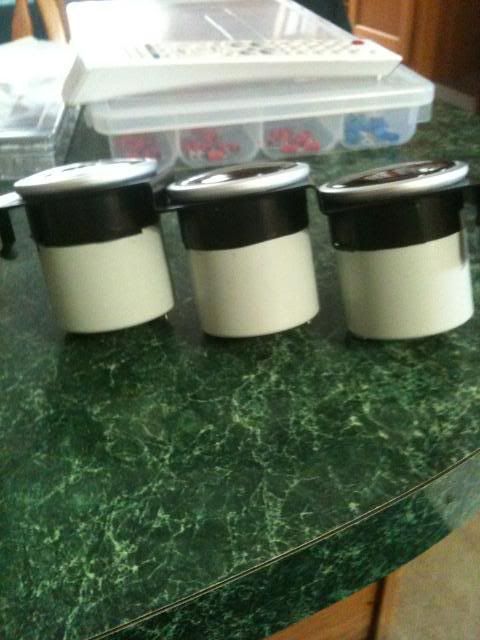 So, now you're completely caught up. Future plans? Door panels are off, redoing them in suede tomorrow. Headliner maybe next weekend. Long term? Well, long-er anyway. SR motors coming up here fairly soon, with plenty of $ goodies. Stay tuned campers.