The "White Bunny Special" was first created and explained on FreshAlloy by member #18, s14turbose, the "white bunny" being his 98 S14 turbo SE. KA24's come stock with a 225mm clutch surface area, but using parts from other nissans allows you to run a 240mm clutch, which by logic gives you more tractable area for the clutch to grab onto thus reducing the chance of slippage.
We used the flywheel of a 1993 D21 Pickup(4 cylinder model), which is the standard flywheel to use because it carries the same crank bolt pattern as our cranks but is a 240mm flywheel. I believe any year will work, 87 being a common year people use but to play it safe use the 93 because I just installed one and it fit fine. There is also talk of lightened 240mm flywheels, but I have yet to see any that arent custom made.
Now the pressure plate and clutch disc are varied. We used the stock setup of the afor-mentioned 93 D21, but common clutches used are off the 280Z Turbo, the 300ZX Turbo, and the RB series clutches. You can use both aftermarket and stock as long as it is 240mm. But one rumor surrounding this special is the truck and 280Z clutch can hold balls of torque, some saying near 400ft/lbs and they still retain stock pedal feel and longer life than aftermarket clutches. I'm still searching for the answer, but I read it went on Mike Lee's T66 KAT, and it had no problems holding 500rwhp.
One very important point is that the 240mm clutch uses 9bolts to hold the pressure plate onto the flwheel, while your stock uses 6. Be sure to pick some up before you attempt this. Also, you'll have to break the small pin on the crank off to bolt up the flywheel, as it has no slot for it.
and of course here are the comparision pictures:
this is both setups(225mm and 240mm) set beside each other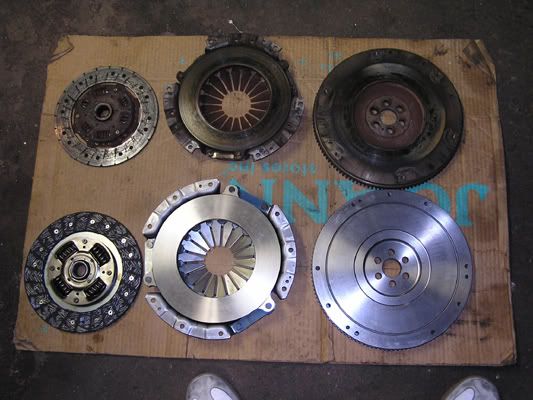 here are the 240 flywheels, notice the O.D. is the exact same, but the surface area and bolt holes are different
the pressure plates... mmmm that just looks good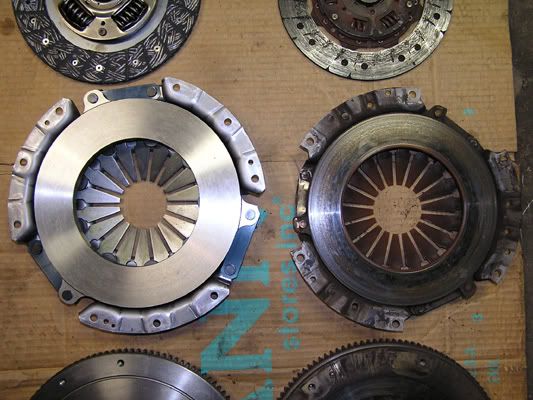 and of course the clutch discs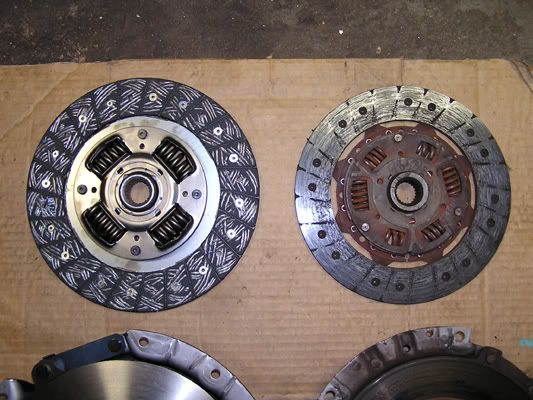 disc and plate
beefy!!!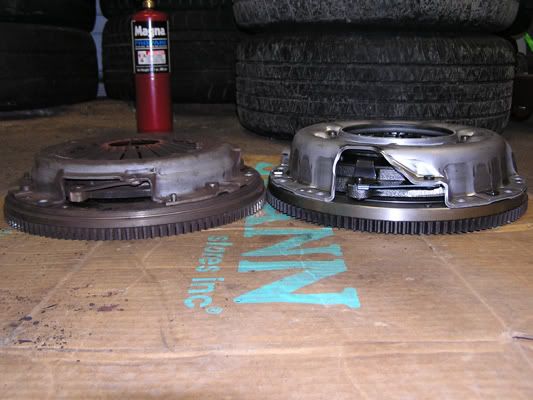 flywheel bolted up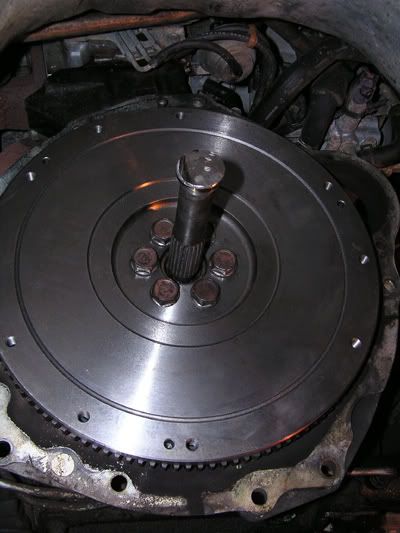 clutch disc on
pressure plate torqued down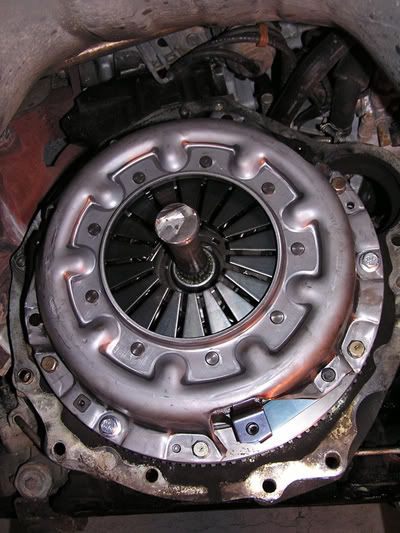 And there you have it, the "White Bunny Special". I'll update this if any new information comes up, and of course details after tyler breaks this setup in and gets to go alittle hard on it. Hope this helps!
And before anyone asks about what the hell is sticking out of my crank, I'll let these pictures do the talking.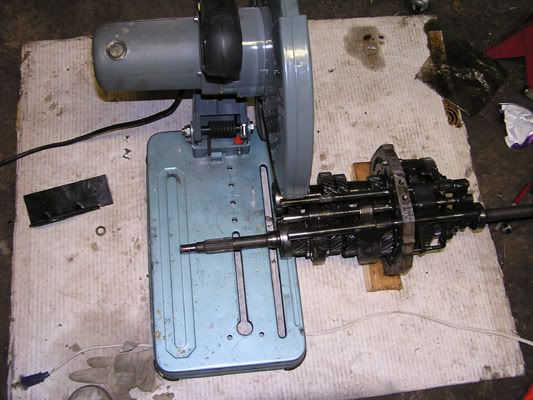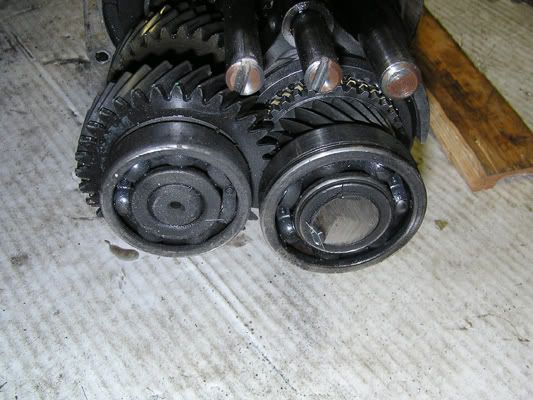 My home-made indestructible pilot bearing packer and clutch alignment tool. A trick learned from tylers and caseys uncle, who was a nissan tech for +14yrs, and has EVERY tool for EVERY problem, even systems for finding squeeks and rattles in your car.