Discussion Starter
·
#1
·
"We're no strangers to love,
You know the rules and so do I,
A full commitment's what I'm thinkin of,
you wouldn't get this from any other guy"



So hello. I've been on this site for quite some time now. I have been broke since about 5 months ago when I started working full time for my dad over the summer. I bought the car stock as hell (March 19, 2011) with only an aftermarket headunit and speakers. It was Auto, 182,xxx miles, no rust (Except under the battery tray which I found recently). It needed brakes, the owner (some pothead's mom, very nice lady btw) thought it blew the powersteering pump, but it just needed some fluid.

Also the drivers rear quarter window was broken and I'm still finding glass in there to this day. Car also came with a mouse who decided to make a home in my center console, but I didnt try to catch him as long as he pooped out side of the car, didnt attack my girlfriend at the time, and didnt eat any of my wiring.

I got it for 2 grand including title and tags. CEL came on as I was driving home and my big ass grin turned into a "Oh shit balls" face. Needed just a new O2 sensor and IACV


So the day I bought her





Put on 15% tint in the rears and 30 on the doors because the hoodlums kept bugging me while driving to buy my car. I was like "Dude were going 45 mph right now and I dont want to trade for your caravan, leave me alone"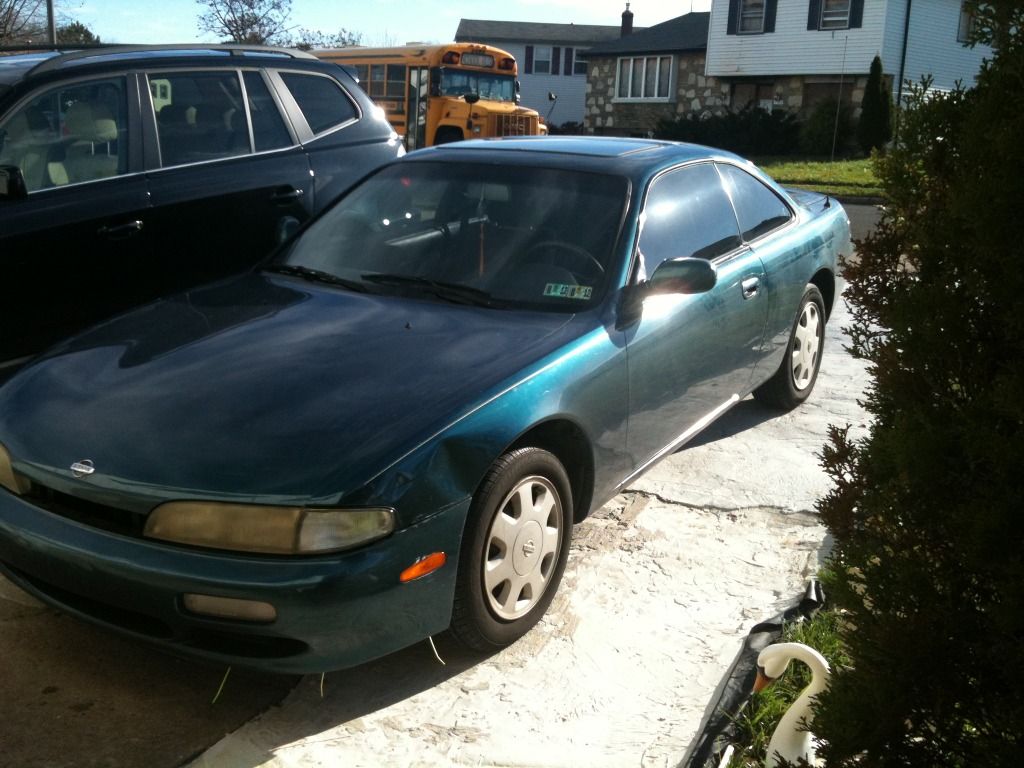 My friend "Read" (Kevin) Bought an s13 some time later, 5 speed, 166k miles, 1900 1989 SOHC. Blew his headgasket recently.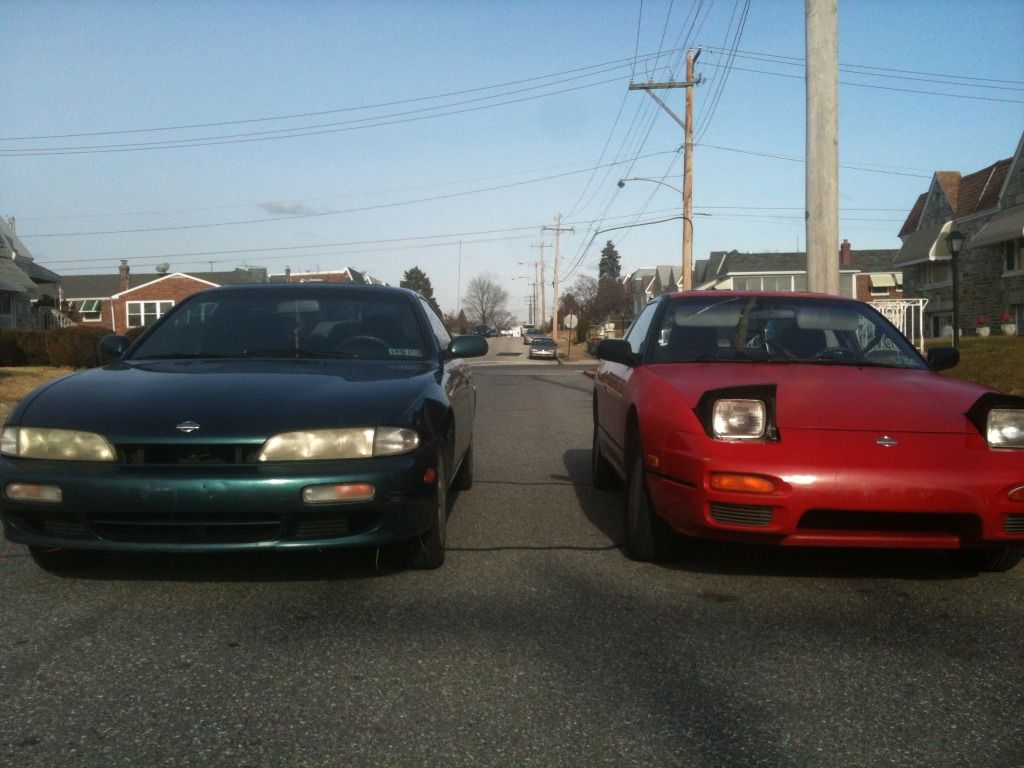 So yeah, fast forward to about 5 months ago. I was broke like a joke but managed to save up 1 grand for my car. Getting paid shit money and having a girlfriend who was a bigger money pit then......I dont know, (insert car with many expensive repairs needed here). Got a job working for my dad and the money started coming in. So my friends and I got bored and decided to explore the suburban areas near me and aggressively drive through the back roads.

So Nighttime + shitty faded headlights + stock tires + stock brakes + Decelerating from 80 mph on a road 10 feet wide didnt end too well, but better than what would have happened.




My car stopped just to the right of that fire hydrant. The trees were about 15 feet in front and there was someones house right there that you cant see.

Story was, a friend in a 2012 scion tc and I were going too fast, I was in front, brakes locked up, and I slammed into a curb. Both airbags deployed, for no reason might I add, wheels pushed back, tensions rods snapped, brackets crunched, rad support touching my engine from the bottom, frame crumpled and raised on passenger side, bumper raped from the bottom, and all i got was a seatbelt scuff mark. I sat in the car right after it happened. My friend ran out, almost pulled the door off screaming "OMG APU ARE YOU OKAYY?!". I looked this gentleman in the eye and replied " FUCK MEE DUDE, LOOK AT MY CAR!"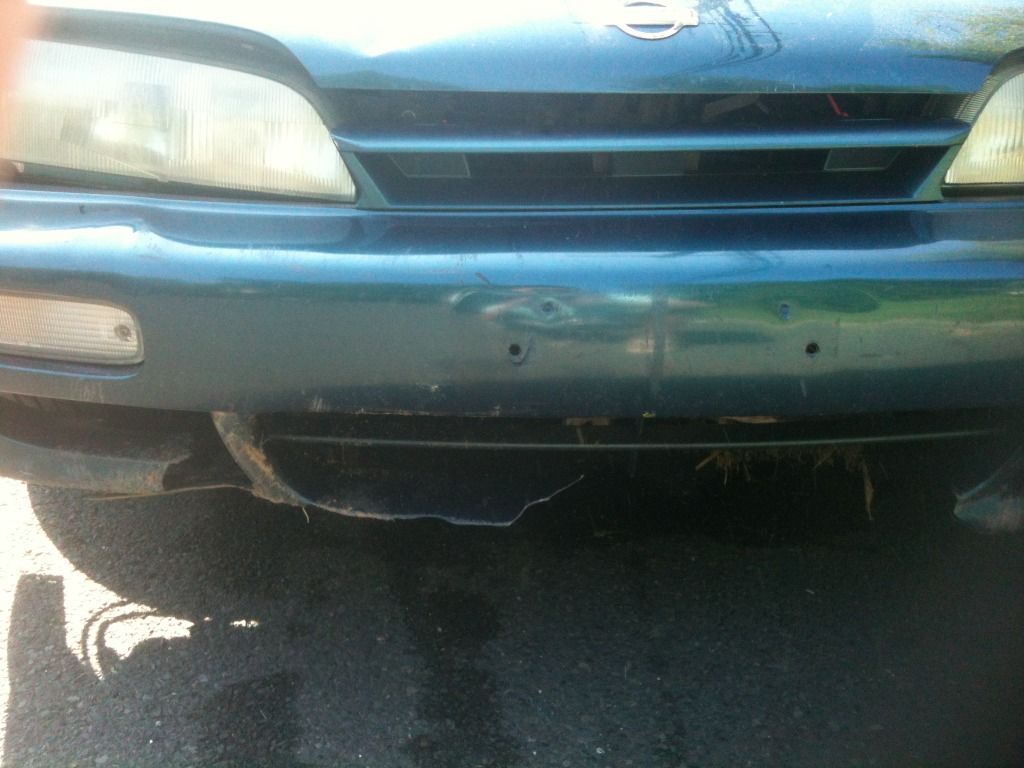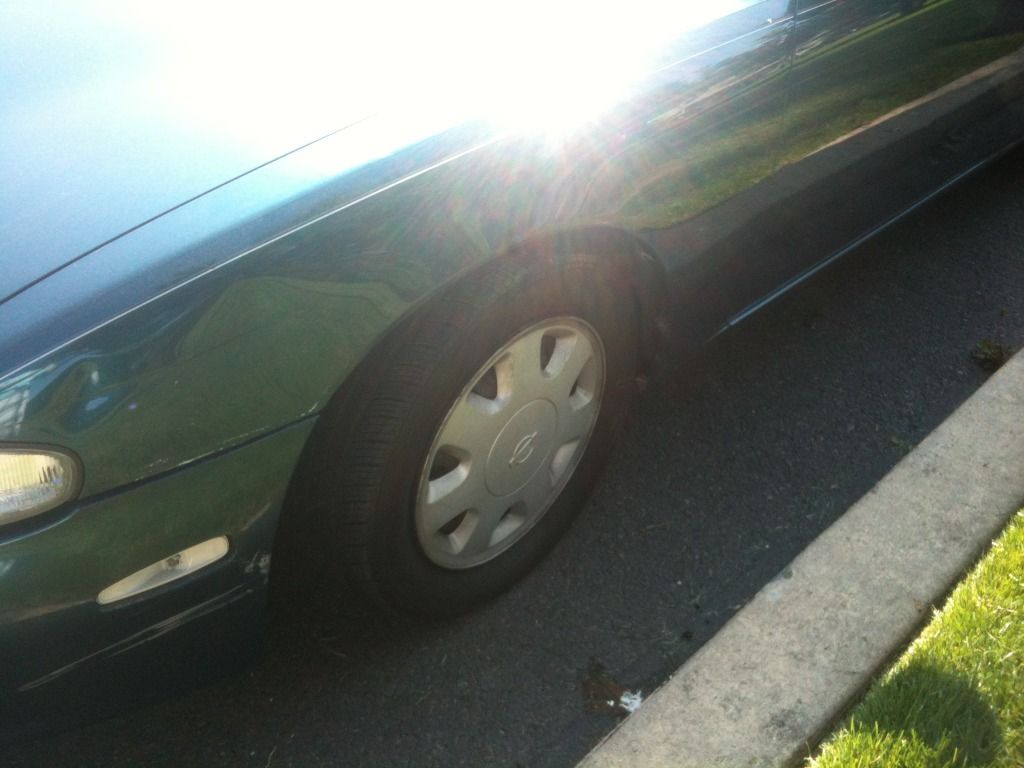 The hood was locked shut, I towed it to a shop my mom knew, I asked them to pop the hood and they didnt, telling me its not worth it and I should sell it to the owner. Towed it home the next day cuz I wanted to strangle him because of how scummy of a move that was. I got to tearing it apart.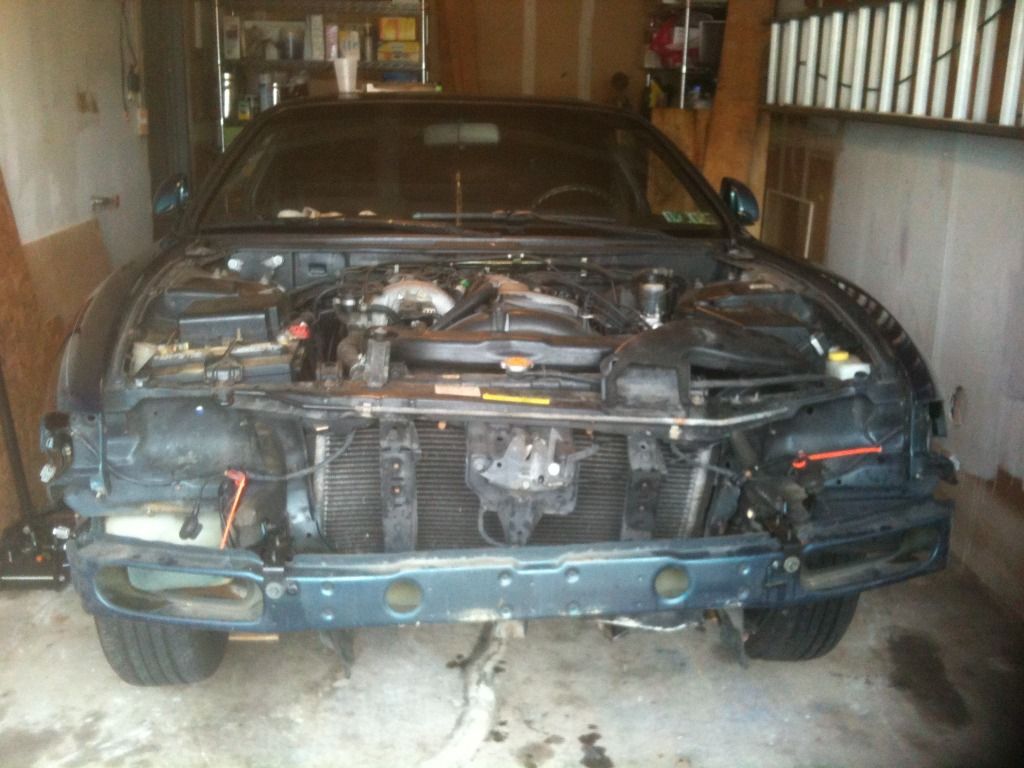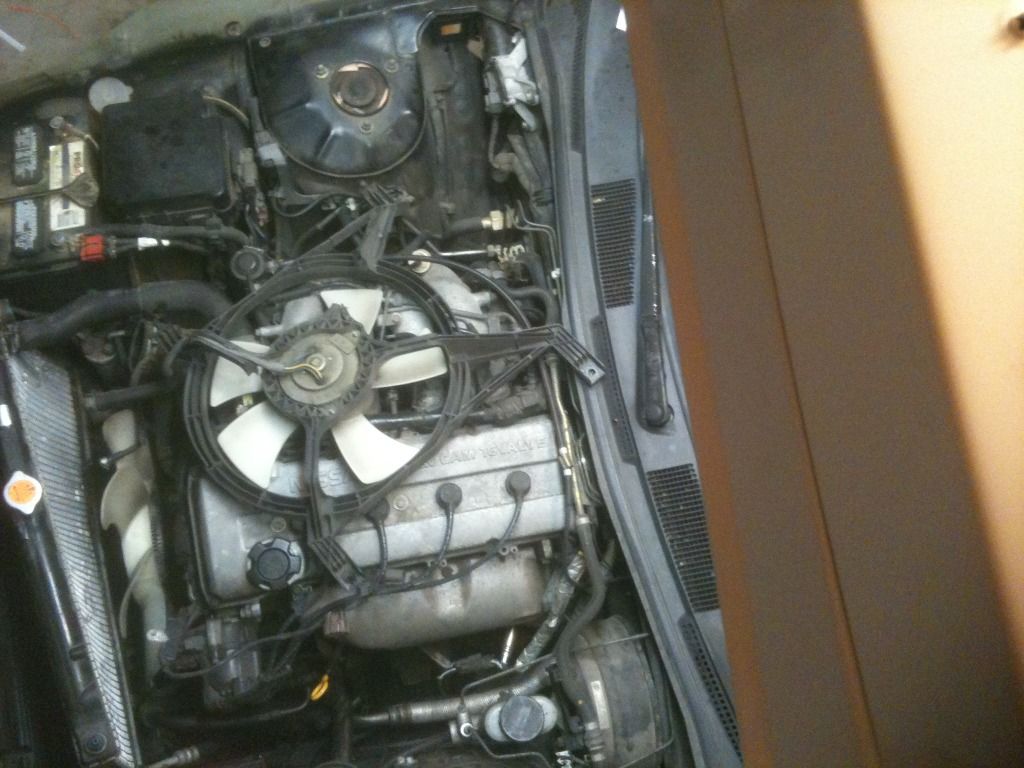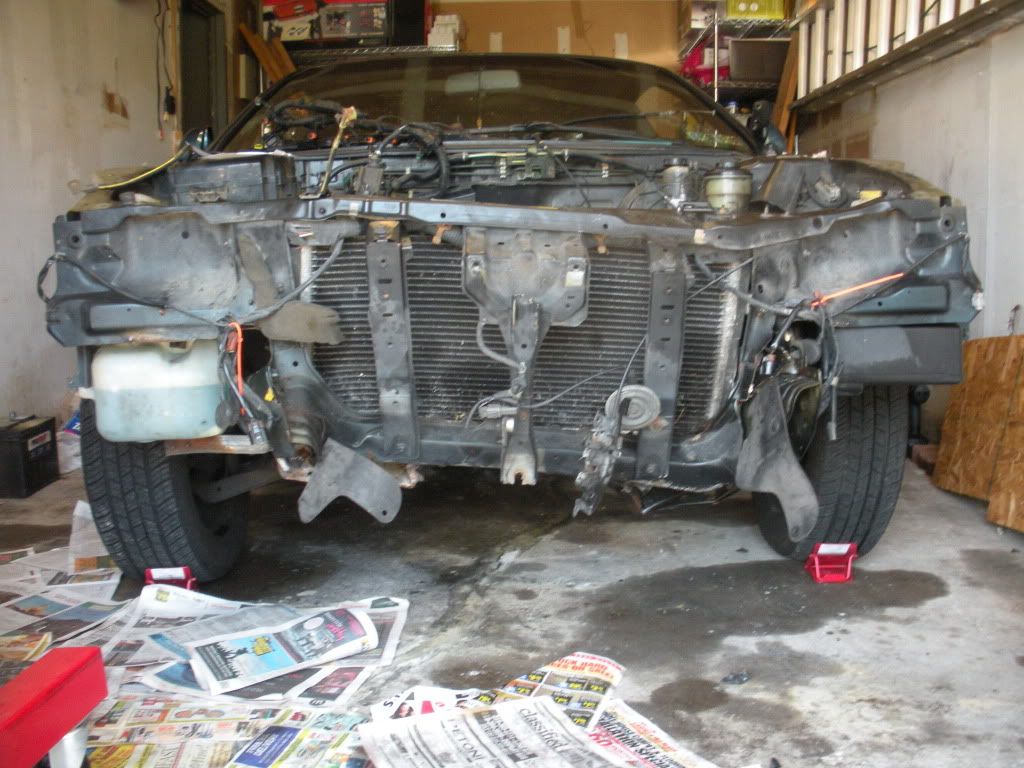 Took the motor out and everything. Artur (A2thak) suggested I go in for a tube front. After talking to the shop, it would be better to get a new radiator support and just have them cut and weld a new piece of frame from a front clip they had. The shop is One motion in NE Philadelphia.

Day she left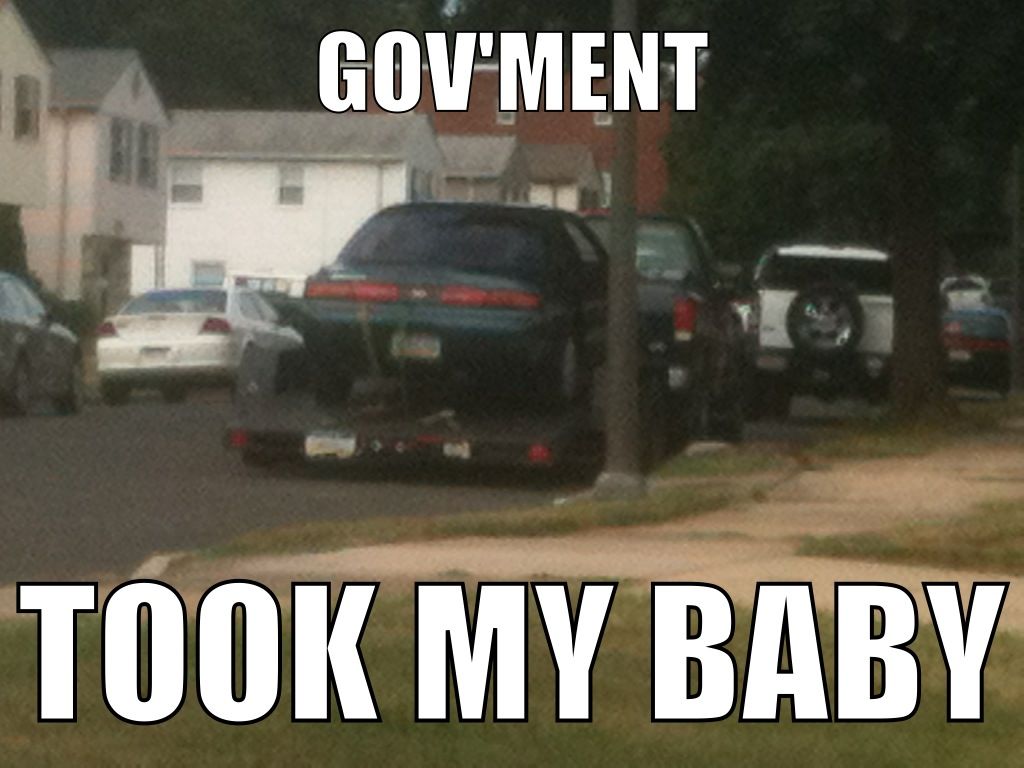 What they accomplished after 1 month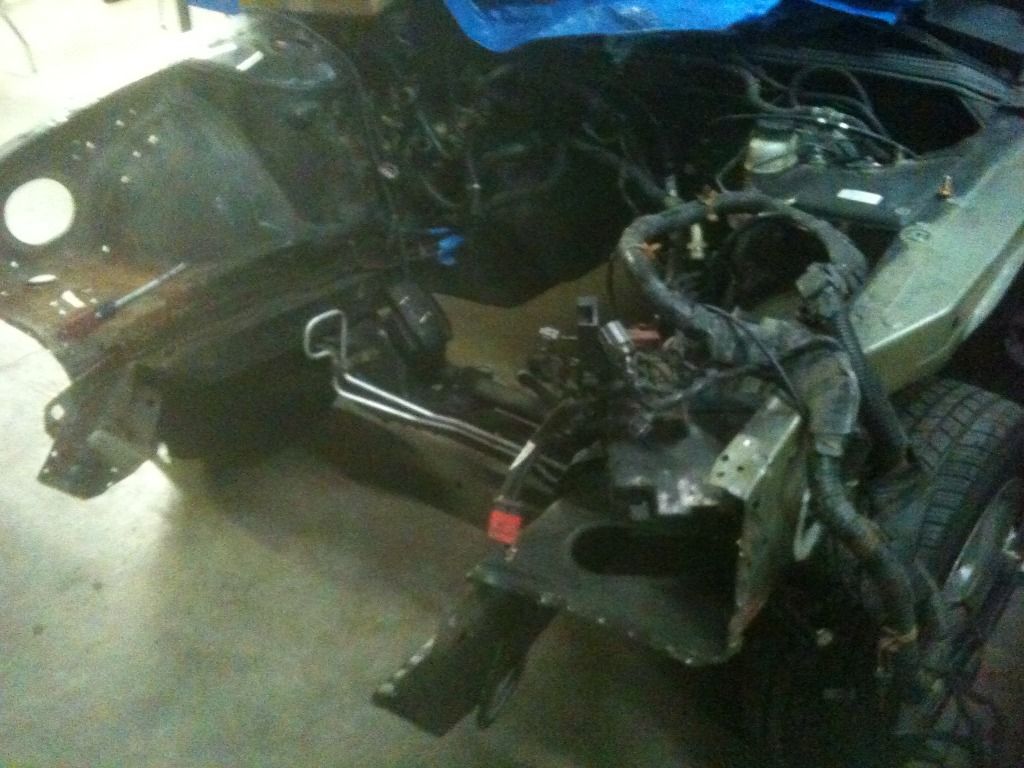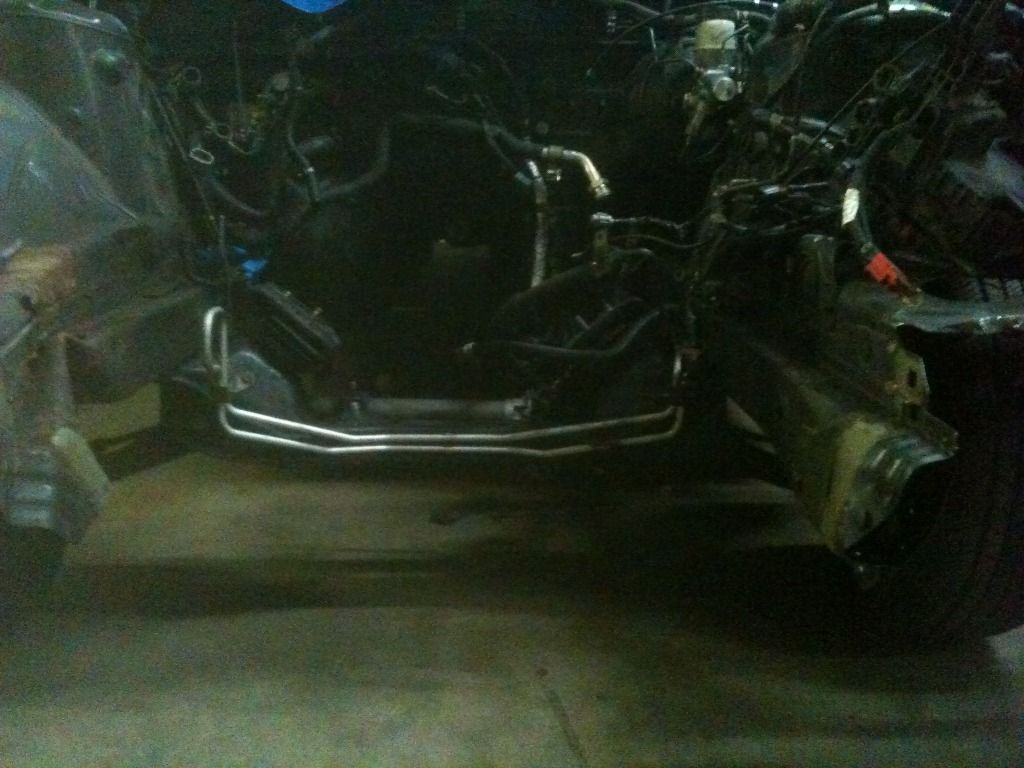 The job they quoated me, originally for a tube front, and the new frame piece was around 1500-2 grand. After talking with the co-owner/welder, it would be better to get a new rad support just because it would be easier to resell the car as stock then to sit there and try to explain the tube front on a street car (I wanted to keep the apron in front of the strut tower) and if I went with a tube front, Id lose the ability to swap front ends once I have it made for a zenki, kouki or s15 front. They were gonna make custom brackets for everything, so I went along with the rad support, the quote still stayed the same though so I was kinda mad about that.

But yeah, 1 month and all they got to was taking off the tension rods, brackets, a/c system, and rad support. They said the hold up was the frame being bent, and that they had 2 different frame guys, none of which showed up and wasted 2 weeks of that time. I went to one place, found a frame guy and handled everything in a 3 day period. Last tuesday it went to the collision shop (Bucks collision), they did everything on wednesday, Thursday got dropped off back to One motion.

Dat Ass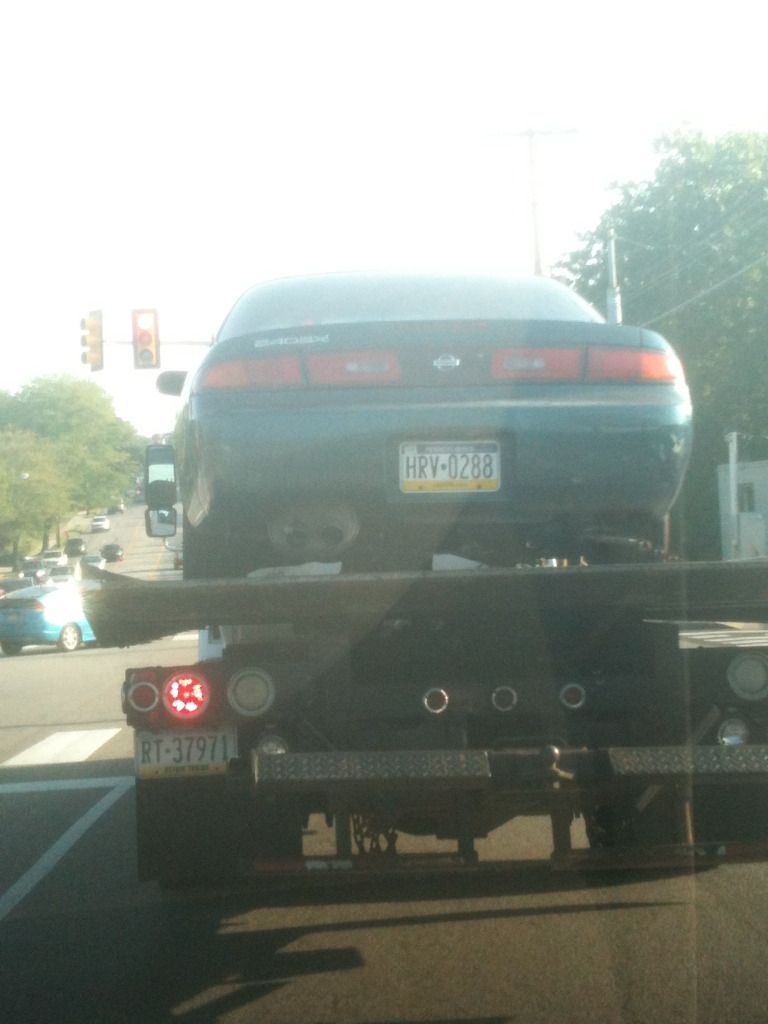 For Some reason through pictures, it looks very shitty and un aligned. But It is just the seam sealer or whatever he called it. Rubber coating to prevent the welds from rusting.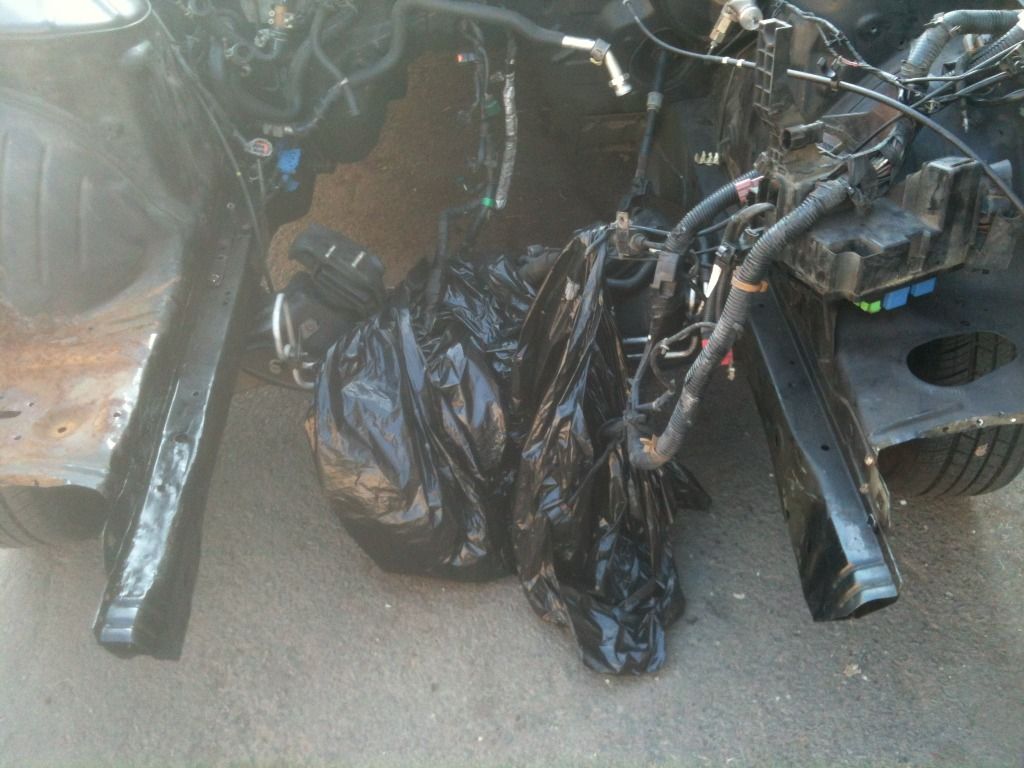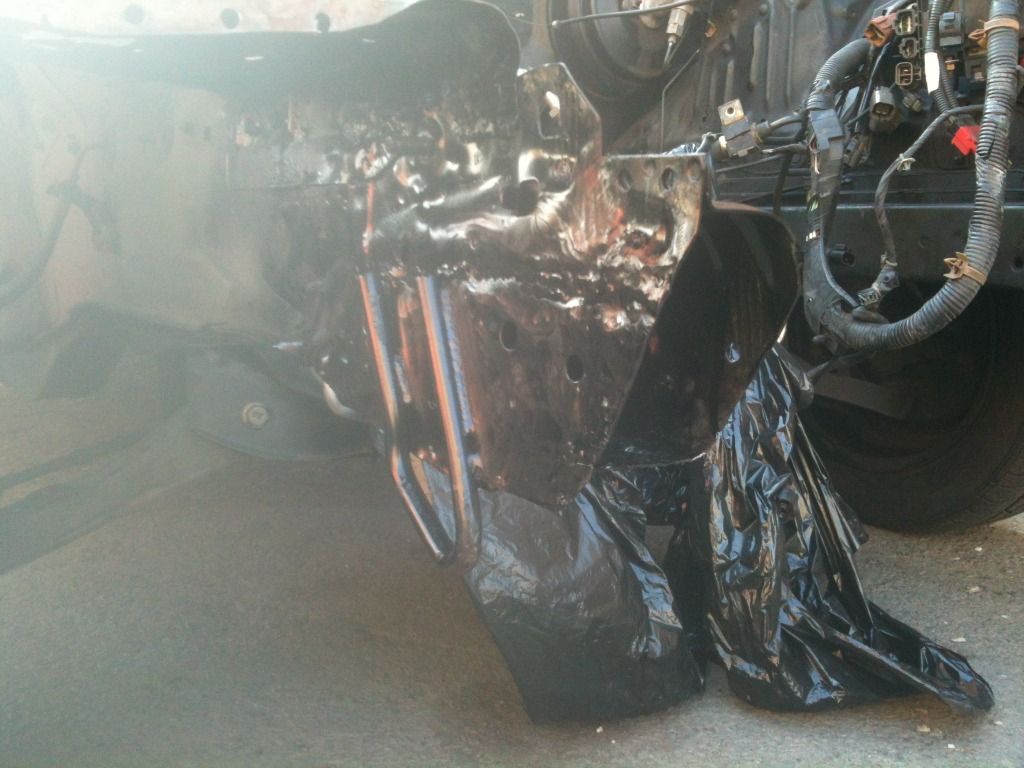 Last night I picked up used Tension rod brackets and worn Tension rods from a guy with leftover parts from a Zenki with no title. It was $33 for those parts.

So currently it's sitting at One Motion. I still wanted them to cut out the frame he straightened and put on the new piece, and fix my battery tray. They said stop by Monday. Today is monday, so naturally I stopped by. Car looks the same. UGH. Right now the wait, according to them, is on which rad support I wanted, Zenki, Kouki, or S15.

My options are as follows

Front clip from Zerolift
-900 shipped for the JDM Zenki Front. Comes with Navan front bumper. I got quoted 1000 shipped and Mike (Owner of One Motion) got it down to 900.

From the dealer
-Zenki rad support alone is 500 shipped
-S15 rad support is 350. I chatted with mike and he said the Zenki front can be used on the s15 rad support, but I have to modify it for the hood latch and headlights.

He called me about 30 minutes ago and told me all this, I said order the S15. He told me to drop by tomorrow and drop off the 350 and they would order it. I am posting this now so anyone who wants to say anything can say so.

I have questions about if I should tell them to do the tube front or not. Someone told me the material (Dom 1 5/8's) would be too strong.
-is it true that you can only align the tube front to one front end?
-They are also doing the battery tray rust, should I tell them not to do it and tackle it myself? Never did any welding before but I have money to spend on a welder.
-Should I even bother with letting them put in the new frame piece? I want to paint the engine bay white so I can find leaks and such, I'm just afraid it would look shitty.

Any input is appreciated, Thanks guys