REGISTRATION DEADLINE and NEW INFORMATION
***NEW INFO FROM the SDZ32 EVENTS COORDINATOR***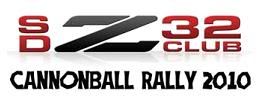 Hey everyone,
We are getting very close to the August 14th, 2010 Cannonball Rally start date, so make sure you register for the event before the cut-off date as you must register for the event beforehand. Our Co-Sponsor, Powertrix, is hosting the payment through their website. If you have any problems, please contact Charles at 619-944-6055 or email him at
[email protected]
.
Please note only registered cars can participate in the Rally. If you are planning on attending the SDZ32 Cannonball Rally, don't wait until the last minute. SORRY NO DAY OF THE EVENT REGISTRATION!!!!
DEADLINES
T-shirts & Registration deadline
Wednesday, August 11, 2010
at 10:00 pm: $35.00
Very Last day to Register is
Friday, August 13, 2010 at 8:00 pm
. $25.00
What You Need To Know:
• All Drivers must have a valid registration and drivers license at check-in (a co-pilot is highly recommended)
• You must have a working digital camera, you will be required to use it during the Rally (Cell phone cameras are OK)
• All vehicles participating must be manufactured by Datsun, Nissan or Infiniti
• Start time: 9:00 am on Saturday, August 14, 2010 (Registration opens at 8:30 am Don't Be Late)
• The winner will be determined by total points
• The Starting Point will be where last year's Rally ended, Miramar Speed Circuit located at 8123 Miralani Drive, CA 92126.
• Top three will be awarded $$$CASH$$$ prizes.
--------------------------------------------------------------------------
SDZ32 Cannonball Rally Registration and lunch $25.00
(all participants will receive lunch; co-pilot too)
--------------------------------------------------------------------------
OR SIGNUP AT
Powertrix